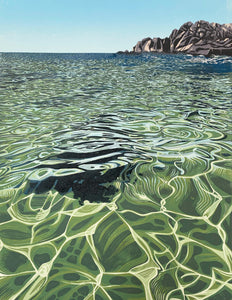 One of my favourite things about living where I do, in Cornwall and working for myself is, if it's a lovely afternoon, sometimes, I can just go out and enjoy it. Especially June when it's still fairly quiet and you get a cove to yourself. Monday was looking gorgeous so I went for a swim. Walking into the clear water I loved the shapes of the seaweed rocks under the surface and the light patterns on the water. I had to get back out of the water and get my phone, lots of inspiration for a new print.   Here's the...
---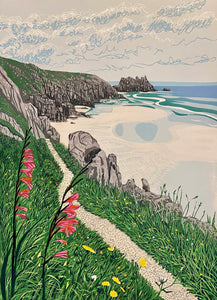 Heading for a swim, walking down the coastal path towards the beach mid May. Last year I remember seeing 2 of these pink flowers, this year they were all over the banking, very beautiful. My drawing on the lino of the basic image I'm planning. Bit of artistic licence on the composition and the removal of my little fluffy grey dog lol, oh and flipped ofcourse.   It looked a bit complicated so I thought I'd just get the sky sorted first. White crayon shows what I'm going to cut away and leave white on the paper. First two layers...
---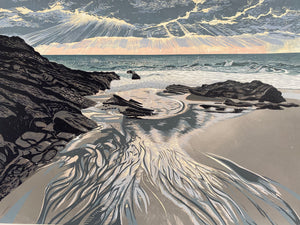 The colours of a late afternoon mid February, a beach to myself ( and the dogs ) looking for potential new images to cut. I decided on this one with it's interesting sky, wet beach reflections, sea and rocks, perfect. I started this print during the Cornwall Open Studios and posted my layers as I went along but here it is again if you didn't see it on instagram. First drawing on the lino and white crayon marks for first cut.    First colour printed, I went for a very pale grey/blue, the white foam of the sea isn't actually white...
---
  27th May  - 4th June  The Orange Circles will be out all over Cornwall this weekend for the next 9 days. It's a great time to explore and discover artists. Open Studios starts this weekend and I'm OPEN All my details are on this link Directions and opening times. https://openstudioscornwall.co.uk/.../hazel-mcnab-artist.../ In the book I'm on page 42 Artist number 164 although I don't appear on their map! I'd be around about under the Z in Penzance. I'll have all my latest work plus older prints and I'll be there busy cutting and printing so if you're down in Cornwall...
---
July 2022, a beautiful evening and a swim with my sister down at Kynance Cove. Lots of photos taken and here's the one I chose to work with A simple drawing on the lino and first cut First two colours printed 2nd cut and lino showing the white lines where I'm planning to cut. 3rd colour a second green  4th colour a blue over the whole sea and a blend in the sky 5th colour a third green 6th colour a second blue 7th colour a turquoise on the lino and printed 8th colour a forth green 9th colour a fifth darker...