Soooo here's something different from me! Quite a few years ago I did a linocut of a polar bear and I wanted to have another go. Obviously! I couldn't work from my own photo so I began by looking everywhere on the internet to find the perfect bear to inspire me to cut. I found the work of Paul Souders, and his incredible photographs. I approached him online and asked permission to use one of his photographs which he kindly granted. There is also a book available on his amazing adventures. Arctic Soltaire: A Boat, a Bay and the Quest for...
---
21st December a beautiful day and the tide would be out at 11am. A reasonable time in my opinion for a walk on this beach. The last thing I expected was to actually go in for a dip, but it was irresistible and I did, as well as getting some wonderful photographs to inspire a new linocut. I was looking for a composition which would fit into the category 'Earth's Wild Beauty' so I could enter into the DSWF Wildlife Artist of the Year 2023. I think this photograph captures wonderfully the power of nature and here's my version on...
---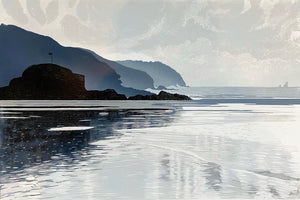 I was asked recently if I did commissions, which due to the amount of time it takes to cut and print an image I don't ( they would be too expensive as a one off ) But if it's a popular place and I get inspired I'm happy to make a print. That's what happened at Perranporth, I went to look and came away with some amazing photos, definitely inspired. Some of them are here on my hazelmcnabphoto instagram I chose the photograph above to work from, I liked the contrast from dark to light and the percentage of dark...
---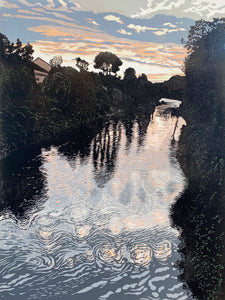 Busy August and how I made my NEW print, Evening light on the Severn
---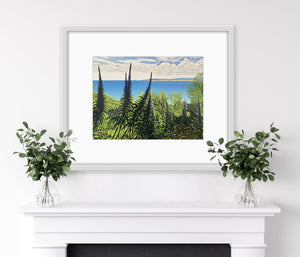 During the St Ives exhibition I had an explore. The streets of St Ives and outwards. I walked the coastal path to Carbis Bay and found some gorgeous views along the way, this being my favourite to cut. I've still not made up my mind whether or not I like this tall spiky plant, the echium. But I have to say I loved this big group of them and against that beautiful blue sea it had a really tropical feel.   Here's how I made my print Image flipped and drawn onto the lino. I drew the clouds on in...