May is turning out to be very busy. Apart from trying to find the perfect bluebell photograph... I'm getting ready to show my work alongside Ian Cox at West Coast Studios in St Ives.  It's a friendly little place, where as well as looking at the exhibition you can get a coffee and enjoy the fantastic view of the harbour. It's run by Ben Hamilton-Tredinnick a local photographer and is close to the bus and railway stations. With this in mind I've created a little print of that famous view which I hope will be popular at the gallery but...
---
January 7th Polzeath Beach after 4pm, short winter days and the sun already setting. My first time here and it's a beautiful place. I took lots of photos for inspiration. Look at those purple and blue striped rocks! I always put my photos on my instagram Photo page, which is separate from my instagram Art page if you'd like to see more of my inspiration. I went with this one in landscape format for a change. My first time at a linocut sunset and WOW was it complicated! 18 colours altogether and this is how I did it. flipped and drawn...
---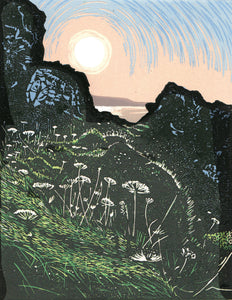 Gurnard's Head. You can see it from miles away while walking different bits of coastal path. But I'd never actually been and walked onto it. It was a gorgeous sunny late January afternoon and I fancied exploring a new place. I had good friend and fellow print maker Ian Cox with me and we were out to be inspired.   Looking from Gurnard's Head towards Pendeen lighthouse heading towards the golden hour.  and then we walked ( well scrambled more like) around the other side and ... before our eyes the bay filled with dolphins. How lucky were we! we...
---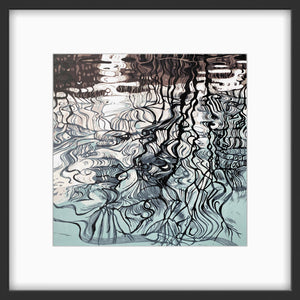 It was a wet winter day in Shropshire. All my dog walks were water logged and muddy. My current favourite place to go was Benthall Hall NT just outside Broseley. With water everywhere the reflections were beautiful. I took this photograph and have been waiting for the right time to tackle it. I think after my last print Summer Day and the complex water patterns in that, it seemed like the perfect next challenge. So here's how I did it. First flip the photo, didn't really matter for this but good to get into the habit. Pencil drawn onto the...
---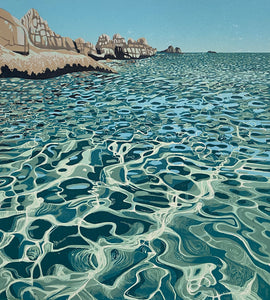 It was a perfect day for a swim 17th July 2021. And this the perfect place. The water was so beautiful I had to dry off, get my phone and take it back into the sea to try and capture something of what was in front of me. I decided to go with this image to cut, and a challenge to see if it would work as a linocut. There is no white in this image so the first thing I did was to just print the sea area with a very pale yellow. Then mark onto the lino in a...