During the Secret Severn Art Trail I set myself the challenge of producing a linocut print to help visitors appreciate all the work that goes into a finished reduction cut print. I sat outside Smith York Fine Art Gallery at Fusion and cut. It was great to meet people and talk about the process. I took my lino home in the evening and cut (always cutting), before printing the new layer each night. I print by hand and that in itself could take 2 and a half hours to print the 12 I was working on. I've been told it's...
---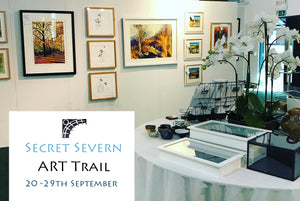 The Ironbridge Art Trail - Secret Severn begins this Friday. 20th - 29th September. The main exhibition is at Footprints gallery, Fusion, Jackfield Tile Museum, TF8 7AP These two are on the wall at Footprints and downstairs in Fusion I'm artist in residence at Smith York Gallery with my Izzy collection and lots of other work. Open 10 - 5pm  for more info and the map of the art trail with all the venues click this link  
---
I'm very pleased my Izzy prints will be included in the new Mascot Media print book 'Paw Prints' dedicated to dogs in print
---
My work can be seen in Leominster at The Lion Gallery, and in Jackfield, Ironbridge. at Smith and York Fine Art Publishing in Fusion at the Tile Museum.